A holiday wreath is a wonderful way to remember your loved one. Choose from three gorgeous options from LuLu Florist. Order by December 11 for free delivery to Columbia Gardens Cemetery with this coupon code — COLUMBIAGARDENS2023. Our staff will place wreaths on the graves starting December 14. Click here for a pdf for ordering information.
VOLUNTEER FOR WREATHS ACROSS AMERICA DAY, DECEMBER 16
Columbia Gardens Cemetery is participating in Wreaths Across America on Saturday, December 16 for the fifth year! Last year, more than 250 volunteers from scouting troops, DAR, military members, veterans, neighbors and community members participated in our wreath-laying ceremony.
Volunteer to place wreaths at the grave sites of more than 950 veterans on December 16 at 9:00 am. Invite family and friends to help.
To sign up to volunteer, visit: https://www.wreathsacrossamerica.org/pages/159338/Overview/?relatedId=0
Se Habla Español / We Speak Spanish
Conoce a Mayrene Rivera. Mayrene llegó a los EE.UU. hace 12 años desde El Salvador y habla español con fluidez. Desde 2022, ha sido un valioso miembro del equipo de la oficina de Columbia Gardens, proporcionando servicios de traducción para nuestros clientes de habla hispana. "La pérdida de un ser querido es un momento muy emotivo y me hace sentir bien poder explicarles los servicios del cementerio en su lengua materna. El poder conversar en español hace que nuestros clientes hispanohablantes se sientan más cómodos con el cementerio, y se sienten conectados conmigo porque hablo su idioma. Siempre estoy aquí y dispuesta a ayudar," dice Mayrene. Para concertar una cita con Mayrene, llame al número 703.527.1235.
[Translation]: Meet Mayrene Rivera! Mayrene came to the U.S.12 years ago from El Salvador and is fluent in Spanish. Since 2022, she has been a valued member of the Columbia Gardens office team, providing translation services for our Spanish-speaking clients. "This is a very emotional time for them and it makes me feel good to be able to explain the cemetery's services in their native language. It makes our Spanish-speaking clients feel more comfortable with the cemetery — and they feel connected with me since I speak their language. I'm always here and ready to help," says Mayrene. To make an appointment with Mayrene, call 703.527.1235.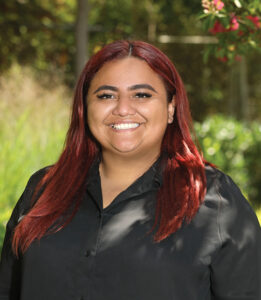 Columbia Gardens Cemetery offers green (natural) burials. Our staff is very knowledgeable and can help you decide if a green burial is the right choice for you and your family. Please contact our office for a consultation at 703.527.1235 or email us at info@columbiagardenscemetery.org.
NATIONALLY RECOGNIZED ARBORETUM
Columbia Gardens Cemetery has been upgraded to Level II Accreditation by The ArbNet Arboretum Accreditation Program and The Morton Arboretum. This prestigious national Arboretum accreditation recognizes arboreta for achieving professional standards to advance the planting and conservation of trees. See more information here.
DAUN FRANKLAND FEATURED IN ASHTON HEIGHTS NEWS
The January 2021 issue of the Ashton Heights News profiled Daun and her history with Columbia Gardens Cemetery.
Ashton Heights News (PDF Download)
VIRTUAL FUNERAL SERVICES ARE NOW AVAILABLE
A virtual gathering helps bring family and friends together in a time of need. Columbia Gardens Cemetery now offers virtual "Zoom" video for burial and cremation services, when distance or other circumstances are keeping people apart. Crystal clear video and audio can be shared with hundreds of people, as they come together to celebrate the life of a loved one. For details, call our office at 703.527.1235.