WREATH REMOVAL DAY JANUARY 22
Please volunteer to help us remove wreaths that were placed on veterans' grave sites on Wreaths Across America Day. Wreath clean-up will be from 9:00 to 11:00 am on January 22. Mask-wearing and social distancing practices will be followed. Let us know if you will come. Call 703.527.1235 or email info@columbiagardenscemetery.org.
A special shoutout to all the volunteers who participated in Wreaths Across America Day in December and who sponsored wreaths for our veterans. Your support helped us meet — and exceed — our wreath goal. Thank you!
Explore our grounds with Agent Tom S. Fox and the free Agents of Discovery educational app, available at the Apple Store and Google Play.
Join Agents of Discovery, the not-so-secret, secret agency dedicated to learning and playing outdoors to solve Challenges.
To get started, download the FREE game and Columbia Gardens Cemetery Mission to your mobile device. After downloading the app, visit Columbia Gardens Mission.
This game will help you discover Columbia Gardens Cemetery—use the hints and clues from your surroundings to solve mysteries of nature, culture and technology. Good luck!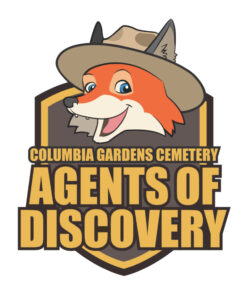 DAUN FRANKLAND FEATURED IN ASHTON HEIGHTS NEWS
The January 2021 issue of the Ashton Heights News profiled Daun and her history with Columbia Gardens Cemetery.
Ashton Heights News (PDF Download)
VIRTUAL FUNERAL SERVICES ARE NOW AVAILABLE
A virtual gathering helps bring family and friends together in a time of need. Columbia Gardens Cemetery now offers virtual "Zoom" video for burial and cremation services, when distance or other circumstances are keeping people apart. Crystal clear video and audio can be shared with hundreds of people, as they come together to celebrate the life of a loved one. For details, call our office at 703.527.1235.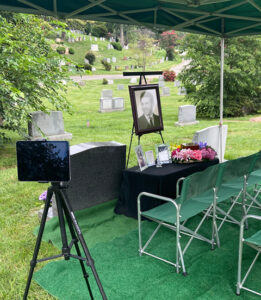 WE ARE HERE FOR YOU DURING THE CORONAVIRUS CRISIS
Columbia Gardens Cemetery continues to provide comfort and services for families in their time of loss during the Coronavirus health crisis. We can arrange to meet with you for a same-day appointment or speak with you via phone to assist with arrangements for funeral services, purchase of burial space or other needs. Simply call us at 703.527.1235.
Our grounds remain open from daylight to dusk and offer a beautiful setting to enjoy a moment of peace in the middle of these stressful times. You are welcome to enjoy walking throughout our grounds.