WREATHS ACROSS AMERICA
Our first Wreaths Across America was a great success! Thanks to the 100+ volunteers from scouting troops, DAR, military members, veterans, neighbors and community members who participated in our wreath-laying ceremony at Columbia Gardens Cemetery on December 19. And, thanks to our many generous sponsors, we exceeded our goal for wreath purchase by 52%.
Wreath clean up is scheduled for Saturday, February 1 at 9:00 am. Please volunteer to help us remove wreaths from the gravesites. For more information, contact info@columbiagardenscemetery.org or call 703.527.1235.
ARLINGTON BUNNY HOP
On April 18, the Arlington Bunny Hop will run through the beautiful grounds of Columbia Gardens. A fun event for the whole family, costumes are welcome and encouraged The net proceeds of this 5K Charity Fun Run/Walk will benefit local Arlington charities. Columbia Gardens Cemetery is proud to be a Partner of the Bunny Hop again this year. To register, visit arlingtonbunnyhop.org.
SPRING FLING MAY 9
Save the date for a special celebration of nature for children and adults. Watch this space for details.
COLUMBIA GARDENS NOW AN ARBORETUM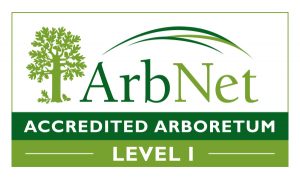 Columbia Gardens Cemetery has been awarded a Level I Accreditation by The ArbNet Arboretum Accreditation Program and The Morton Arboretum, for achieving standards of professional practices for arboreta and botanic gardens. We are proud to have achieved national Arboretum status based on the care of our grounds, preservation of our trees, and management of our environment. As you walk through our beautiful grounds, you will see that many of our tree species are marked with signs that have QR codes to provide an enhanced learning experience for our visitors.
For more information about our Arboretum status, visit http://arbnet.org/morton-register/columbia-gardens-cemetery.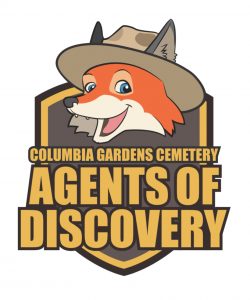 At Columbia Gardens Cemetery, the Agents of Discovery mission encourages young and young-at-heart visitors to the cemetery to move, play, and learn in nature as they solve geo-triggered, augmented reality challenges. Agent Tom S. Fox is your guide as you explore the history of the cemetery, the stories of those buried here and the beautiful natural surroundings.
How to Play:
Download the free "Agents of Discovery" app onto your mobile device from the app store.
Under Missions search for Columbia Gardens Cemetery and download the mission.
Tips:
Allow the app to access your camera for augmented reality challenges as well as location for activating challenges.
It is recommended that you have the sound turned on.
It is not necessary to register or login to play.